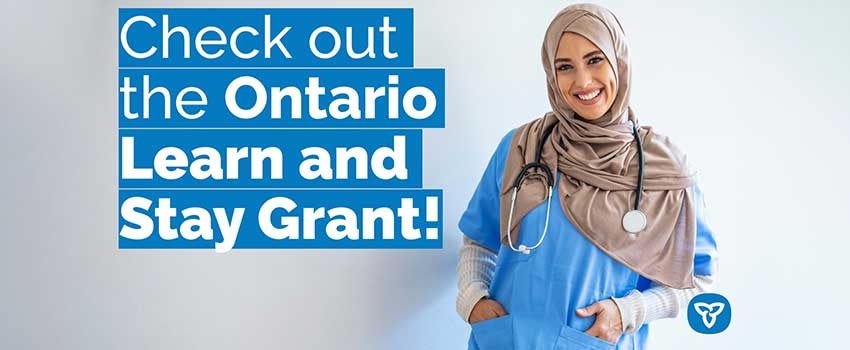 Ontario Learn and Stay Grant for Careers in Health Care
The Ontario Learn and Stay Grant provides funding for students studying in priority programs in priority communities in Ontario.
This program:
requires you to learn and work in the region where you study
responds to labour market needs, including in health care
helps communities get the workers they need for in-demand professions
In addition to providing free tuition,the funding will cover the cost of:
compulsory fees
books
other direct educational costs (for example, supplies, equipment)
Eligible programs, institutions and regions for the 2023–2024 academic year will be available for select nursing, paramedic and medical laboratory technology/medical laboratory science at the diploma, advanced diploma, undergraduate, masters and post-graduate levels.
To receive this grant, you need to fulfill a service commitment. This means you are required to work in the region where you studied for a minimum of six months for every year of study funded by this grant.
For example, if your program of study is four years long, and you received the Ontario Learn and Stay Grant for each year that you studied, you must work in the region for 24 months (two years) after graduation.