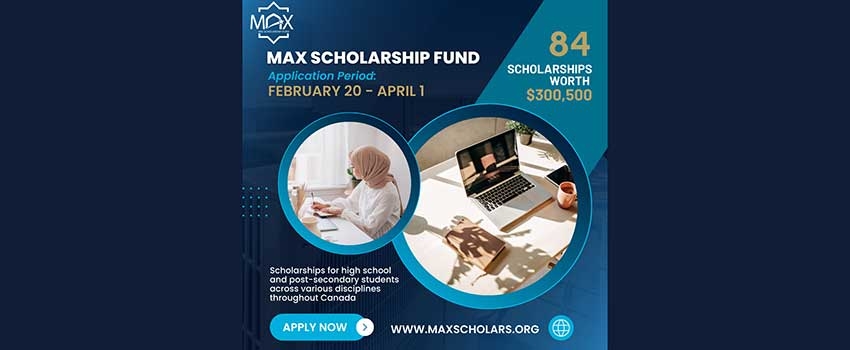 Apply for Scholarships for High School Graduates and Post-Secondary Students from the 2023 MAX Scholarship Fund
Muslims Achieving Excellence - MAX Scholarship Fund 2023 Applications are NOW OPEN!!
We have 84 Scholarships worth $300,500 available to post-secondary and high school students across Canada in the following categories:
All-Star (General | Needs-Based | Female)
Business Leader
Journalism & Media
Women's Empowerment
Hifz Scholar
Computer Science and Software Engineering
Mechatronics & Mechanical Engineering
Newcomers and Refugees to Canada
Science and Engineering
Medicine & Dentistry
Communities
Learning with Limitations/ Disabilities
Humanitarian
Students may apply to a maximum of two subcategories and will be considered for scholarships within those categories.
Application deadline is on Apr 1, 2023 @ 2:59 AM America/Toronto.
For more details and to apply visit us: maxscholars.org