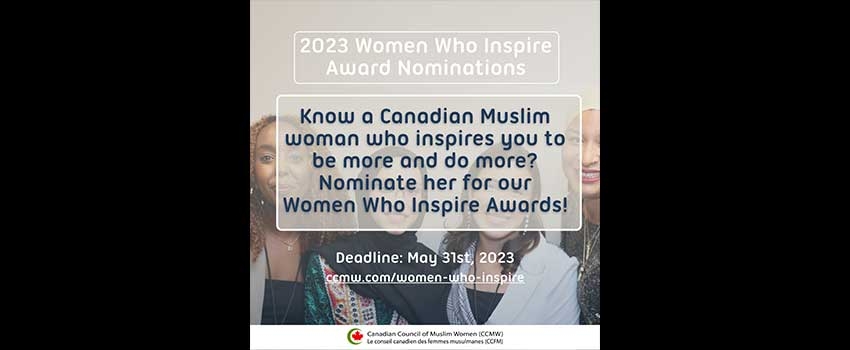 Nominations Open for the 2023 Canadian Council of Muslim Women (CCMW) Women Who Inspire Awards
Launched in 2007 to recognize Canadian Muslim women who have made a difference in the lives of other people in Canada and/or abroad.
The initiative brings together Canadian Muslim women of diverse backgrounds to celebrate those who have achieved excellence in sports, business, education, arts, community service and leadership.
Women Who Inspire Awards Nomination Criteria:
A Muslim woman who
Is a Canadian Muslim woman living in Canada and her work may be located outside of Canada.
Demonstrates a commitment to improving the lives of others.
Demonstrates a commitment to women's equality.
Has participated in grassroots activism or demonstrated a commitment to civic engagement.
Is not a current CCMW national board or staff member.
Nomination Requirements:
All questions must be answered.
A resume of the nominee must be submitted.
Nominations not submitted as per the guidelines may be disqualified.
The deadline date is May 31, 2023
Should you have any questions, please contact CCMW at This email address is being protected from spambots. You need JavaScript enabled to view it..