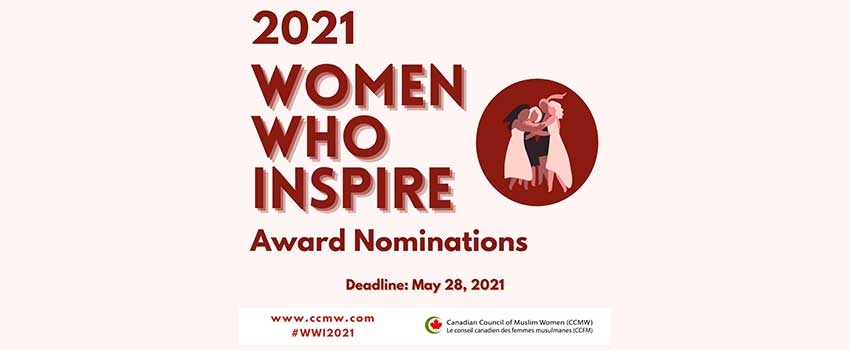 Nominate Someone for the Canadian Council of Muslim Women (CCMW) Women Who Inspire 2021 Awards
The Canadian Council of Muslim Women (CCMW) hosts an annual event, a "Women Who Inspire Awards", which brings together Canadian Muslim women of diverse backgrounds to celebrate those who have achieved excellence in sports, business, education, arts, community service and leadership.
This initiative was launched in 2007 to recognize Canadian Muslim women who have made a difference in the lives of other people in Canada and/or abroad.
The awards recognize accomplishments of Canadian Muslim women and girls and their contributions to racial and gender equality. 'Women Who Inspire' is a platform to celebrate women who have excelled and who serve as role models of Muslim faith, culture and leadership on issues affecting Canadian Muslim communities.
Help us celebrate a Canadian Muslim woman in your community who should be recognized for their work by nominating them for our Woman Who Inspire Awards!
The deadline for nominations is May 28, 2021.
Women Who Inspire Awards Nomination Criteria:
A Muslim woman who
Is a Canadian Muslim woman living in Canada and her work may be located outside of Canada.
Demonstrates a commitment to improving the lives of others.
Demonstrates a commitment to women's equality.
Has participated in grassroots activism or demonstrated a commitment to civic engagement.
Is not a current CCMW national board or staff member.
Nomination Requirements:
All questions must be answered.
A resume of the nominee must be submitted.
Nominators will be asked to present the awards to the nominees at the Women Who Inspire Fundraiser and Awards Brunch.
Nominations not submitted as per the guidelines may be disqualified.
Selection Process:
The selection committee will comprise representatives of CCMW's board, chapter members and members of the broader community.
Nominations will be assessed against the criteria questions.