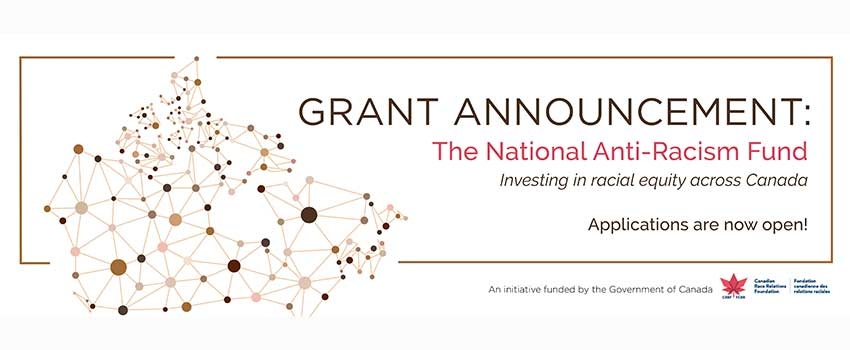 Applications Open for the Canadian Race Relations Foundation (CRRF)'s National Anti-Racism Fund
The initiatives must align with one or more key themes and objectives and achieve the expected results of the National Anti-Racism Fund.
3.1. Eligibility
This stream of funding is available to:
Canadian registered charities (as recognized by the Canadian Revenue Agency)
Incorporated community based non-profit organizations
Grassroots and recognized student groups
3.2. Available Funding and Flow of funds
The amount of funding for any proposed youth anti-racism initiatives will be up to a maximum of $2,500. Funding will be provided upon contract signing, and a final report is expected after the completion of the initiative.
The Fund's limitations
Applicants will only be eligible for funding under the "Project-based" application stream to a maximum of one project;
Applicants will only be eligible for funding under the Event and Youth anti-racism stream to a maximum of two applications;
Applicants can apply for the same Project, Event, or Youth initiatives twice within the Fund period;
Applications for initiatives currently receiving funding through either the Community Support, Multiculturalism, and Anti-Racism Initiatives (CSMARI) Program or the Anti-Racism Action Program (ARAP) – administered by the Department of Canadian Heritage - will only be considered if the application is to extend or expand the existing initiative.
What the Fund will not support:
For-profit organizations;
Federal institutions;
Hospitals and long-term care facilities;
Individuals;
Organizations whose purpose is solely related to political activity, as defined by the Canada Revenue Agency;
Professional associations.
Although these funds may be used for certain overhead costs, the Fund may not be used for:
Basic shelter beds or transitional housing beds;
Costs (e.g., loans, grants, or scholarships) that are related to direct financial assistance in the form of payments to individuals or families;
Partisan political activity that is in direct or indirect promotion of a political candidate or party;
Rent fees;
Services covered by provincial health authorities;
Services provided by medical professionals or regulated health professionals other than social workers or social service workers;
Support of operating deficits;
Purchase or investment in real property (real estate, land, buildings).
Overhead and administrative costs directly associated with the project, event, or youth initiative can be requested to a maximum of 15% of the total budget.
Application deadline
The application portal will open at 9:00 AM EST on Tuesday, January 4, 2022, and close at 9:00 PM EST on Friday, January 28, 2022, for project-based applications. It will remain open for Event sponsorships and Youth initiative sponsorships until December 2022.
Application process
Applications will only be accepted through the online application portal. However, for reference, the full applications are available in PDF format for download. Organizations that are interested in applying to the National Anti-Racism Fund are encouraged to download the PDF file to review the application questions and prepare all required information and attachments before submitting their application through the online portal.