Crowdfunding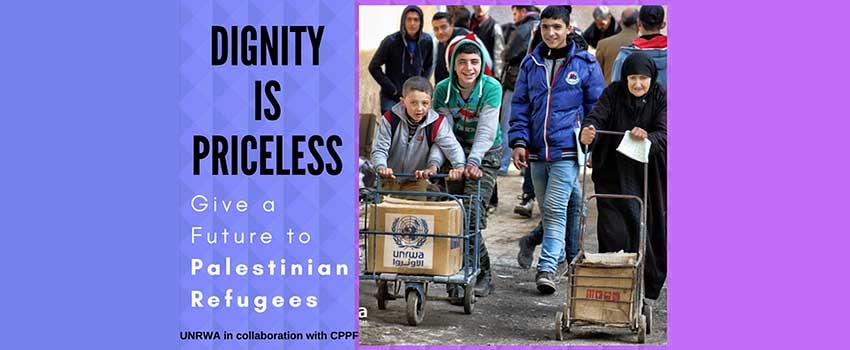 Support Palestinian Refugees | #DignityisPriceless Campaign
The United States administration recently decided to freeze funding for UNRWA by $300 million (83%). Because of this, the UN Agency for Palestine refugees faces an unprecedented funding crisis. Millions of Palestine refugees could lose access to life-saving UNRWA services.
It will take all of us standing together to fund UNRWA's work, so it can continue serving Palestine refugees in the Gaza Strip, the West Bank (including East Jerusalem), Jordan, Syria, and Lebanon.
For more information, visit the campaign here

By supporting the #DignityisPriceless campaign, you can help fund vital services for Palestine refugees. Because of the government's cut in funding, at risk of being lost includes:  
Access to basic education for 525,000 boys and girls at 729 UNRWA schools

Emergency food and cash assistance to 1.7 million extremely vulnerable Palestine refugees

Access to primary health care for 3 million refugees

Prenatal care for mothers

Dignity and human security for 5.3 million refugees who endured 70 years of injustice and uncertainty
The Canadian Professional Palestinian Foundation (CPPF) believes in bringing education to Palestinians both in Canada and abroad. In cooperation with UNRWA, the CPPF promotes basic human rights of all Palestine refugees through university scholarships for successful former UNRWA students. Support this campaign and help the CPPF continue providing university educations for high-achieving Palestine refugee students. 
Your valuable support of this campaign will help UNRWA continue providing education, healthcare, social services and protection to millions of Palestine refugees in need.