Crowdfunding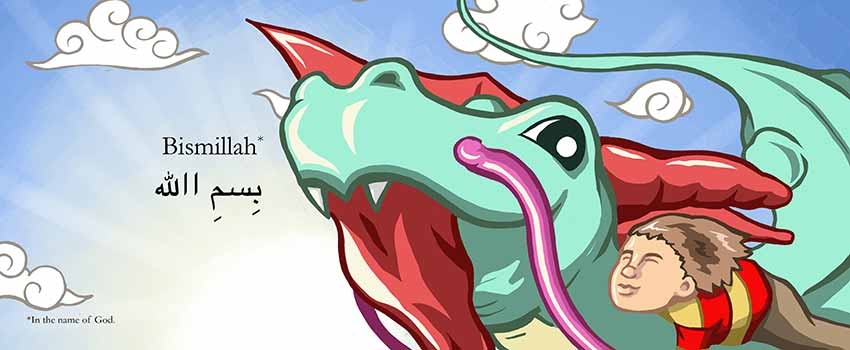 Help Publish an Imaginative Dua Book for Children Produced by Five Reverts to Islam!
Deadline:
May 01, 2019 01:45 AM
What Do You Say? An Islamic Manners and Morals Book is a dual language story written in English and Arabic that tells the story of a boy who meets Violet, the dragon.
They fly off on an adventure to meet trolls and a sea monster while learning some basic Islamic dua such as how to greet someone and what to say when someone sneezes.
Together they solve problems and become friends.
Age: Toddler to 9 years
Dimensions: 8" x 8"
Length: 24 pages
Format: Full colour paperback with laminated cover and glossy pages.
Why Do You Need this Book?
The Qur'an tells us that Allah [swt] created the jinn and humankind to worship him. (surah adh Dhariyaat, 51:56)
Prophet Muhammad said that "Dua is the very essence of worship." (Tirmidhi)
Teaching our children to make dua is one of the most important things we can do as parents and as educators. But learning dua can seem like a chore, especially for English speaking children trying to memorise Arabic.
"What Do You Say?" will help, because children will respond to the excitement of travelling with a dragon. They will learn the dua without the effort required from learning from a boring book.
Why Do We Need Your Help?
Publishing is an expensive field. We need your help to cover the costs of production (printing) and also marketing costs.
Our sales are used to cover expenses and to pay for more books.
Thank you!
Jazakum allahu khairan.
Production Timeline
March 2019 – Story, translation, illustration and layout complete
April 2019 – Launchgood Campaign
May 2019 – Send to printer
About Us
What Do You Say? is a collaboration between five converts to Islam! Kathy, Heather and Tammy founded Compass Books more than ten years ago. Between us we have 12 children and 2 grandchildren. We have backgrounds in writing, graphic design, illustration, fine arts, and photography. We established Compass Books because we wanted to improve the quality of children's Islamic books that were on the market.
Our author is Suzanne Muir, a parent, author of many children's book and an educator who works as a librarian.
Our illustrator is David Anthony, an author, illustrator, children's art educator and mural painter.