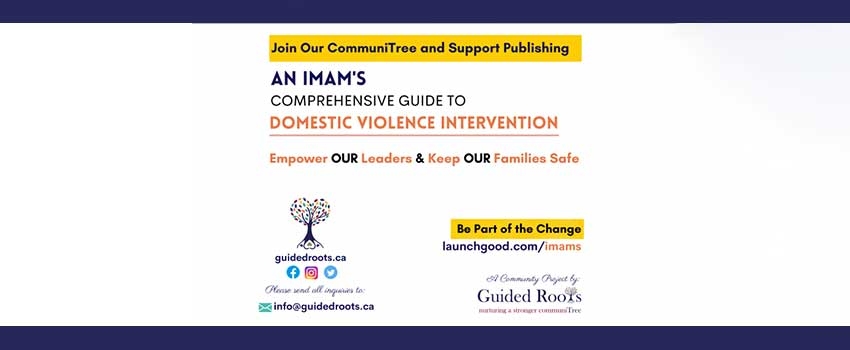 Guided Roots: Support Building Imams' Resources for Domestic Violence Intervention
At Guided Roots, we are Building a Comprehensive Guide, Resources and Training Program for Imams on Domestic Violence Intervention.
Our goal is to ensure that our faith leaders have all the resources, training and assistance needed at their fingertips to help any victim of family violence who knocks at their door.
Today, we invite you to join our growing guided roots community, where we work towards a world where family is a truly safe place.
DID YOU KNOW?
Research shows that Imams are first responders to 50% of Muslim victims of domestic violence in North America (highest for any faith group), however, they often lack first responder training and resources to recognize and properly respond. Our Imams not only have an enormous potential to help and support victims of domestic abuse and silence abusers, but their awareness, support and activism, may allow the Muslim Community to address this issue better than any others! Guided Roots was born with a dream to make it happen.
WHY IT'S IMPORTANT/OUR STORY
Four years ago, following an incident in our community, we witnessed firsthand the fears, barriers and lack of community support experienced by our fellow sisters in our mosque community. Our repeated requests to address this issue in the sermon was dismissed, quoting 'we have already given a sermon on the rights of wives once this year', 'there is little we can do', 'domestic violence is not a big problem in our community'.
We were repeatedly asked by women, 'what does Islam say about domestic violence?'
It was obvious that there was gap in understanding the reality of the situation and the awareness within our faith leaders or their perceived role in it. 
Muslim women are not more vulnerable to spousal violence compared to the rest of the society. However, one in three is one too many. The interviews of faith leaders conclude that Muslim faith leaders in Canada believe in the religious intolerance of domestic abuse, however, many factors prevent them from talking about this issue openly. These same factors create unique barriers for Muslim women to seek support. As the findings highlight, Muslim faith leaders have an enormous potential to help and support victims of domestic abuse and silence abusers, if only they themselves are aware, informed, active, and have access to the right resources.
'The Imām is a guardian and he is responsible (for his subjects)' (Al-Bukhāri, trans. 1997, Hadīth # 5188).
We believe that when mosques openly condemn domestic violence and educate community members of its impact on the next generation of Muslims, it may not only dismantle the fears that prevent victims from seeking help, but the Muslim community may also address this issue better than any others.
We Don't Just Believe, We Believe in Taking Action.
Guided Roots is a community-based, volunteer-led, Canadian non-profit, with a goal to empower our Muslim Community and Leaders to nurture healthy families. Our project, An Imam's Comprehensive Guide to Domestic Violence Intervention, is born out of a community need to make information, resources and training about this stigmatized problem accessible and available to our community members. Through supporting this campaign, you too can become part of this noble dream.
ABOUT THIS CAMPAIGN
​This fundraising campaign will support us through Phase 2 of the Project:
Phase 1: Creating Guide Content and Resource Materials for Imam's Handbook (Complete, alhamdu lillah)
Phase 2:
A. Reviewing & Finalizing Guide Content & Resource Materials (Review by Field Experts)
B. Converting the Guide to an E-book (Campaign Target: 500 E-books for Free Distribution)
C. Transforming the Guide to Visual Media (Information & Learning Videos) (Campaign Target: 20 Videos with Free Access to All)
Phase 3: Developing the Training Program & Support for Our Imams & Mosques
SUPPORT THE PROJECT: The simple truth is: we can't do this without you. From administration to professional fees, from graphics design to publishing, there are a lot of expenses involved in sustaining a newly found non-profit. Your support will go a long way in helping us thrive. At the end of the day, you are helping build our community, and we pray that Allah accepts this Sadaqatul Jaariya from you and from all our volunteers.