​​Call for Participants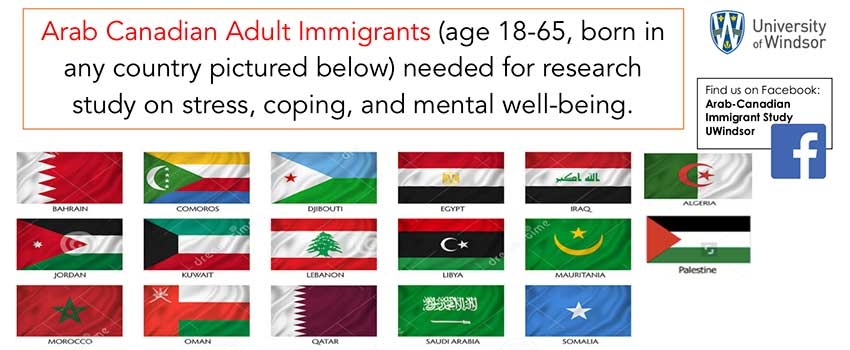 Well-Being and Mental Health of Arab-Canadian Immigrants Study
My name is Ruby Jamil and I am a Ph.D candidate in Clinical Psychology at the University of Windsor.
I am recruiting adults (age 18-65) born in any of the countries listed in the image above and whose permanent home is Ontario to participate in my dissertation research which consists of a series of questionnaires.
Participants who complete the questionnaire online will be entered into a draw for 1 of 4 $25 Tim Hortons or Amazon gift cards.
Participants who complete the study in person (in Windsor, Ontario) will receive a $15 gift card to Tim Hortons or Walmart.
Arabic translations of these questionnaires are available for those who need them.
Participants must live in Ontario and be between the ages of 18-65 and born in an Arab country to participate.
This study can be completed online and will take 30-45 minutes to complete.
Participants will be entered into a draw for 1 of 4 $25 gift cards for Tim Hortons or Amazon for completing the study.
Interested participants can email This email address is being protected from spambots. You need JavaScript enabled to view it. in order to receive a unique link to complete the study.
The study is also advertised on a Facebook page called "Arab-Canadian Immigrant Study - UWindsor"
This study is for my doctoral dissertation, "Well-Being and Mental Health of Arab-Canadian Immigrants".
The goal of the research is to study the effect that stress and coping have on the mental health and well-being of Arab-Canadian immigrants.
Julie Hakim-Larson, Ph.D., is supervising my study.