​​Call for Participants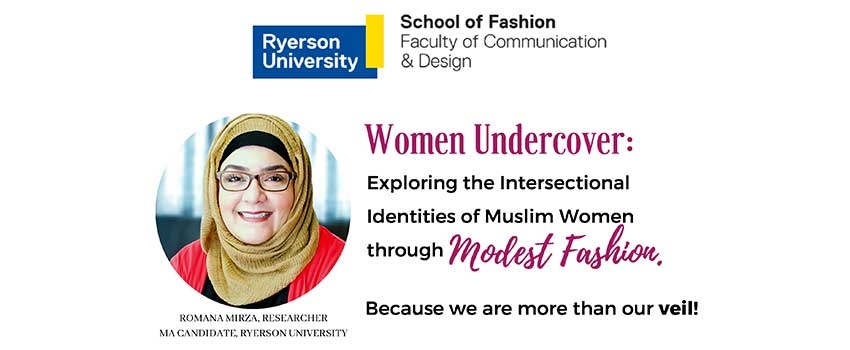 Participants Needed: "Women Undercover" Exploring the Intersectional Identities of Muslim Women Through Modest Fashion
I am working on a new academic research study titled "Women Undercover: Exploring the Intersectional Identities of Muslim Women through Modest Fashion" to advance diversity in women's fashion.
The purpose of this study is to examine Muslim women's intersectional identities by studying their fashion consumption practices. The goal of this work is to uncover new insights about the relationship between women, modesty and their Western identities as well as to understand how digital storytelling can be utilized to disseminate research. What I have found in my academic research is that most scholars have difficulty grasping the essence of who we are as Muslim women living in the West. Most scholarship is either focused on our practice of veiling alone, without exploring who we are as individuals and why we choose to present ourselves this way through clothing. Or, without understanding the intricacies of who the consumer group is (who is creating this demand in the first place) they are interested in the rapid rise of demand for modest fashion.
Participation in our project involves two parts:
FIRST PART: The first part is a two-hour interview in your home during which we ask you about your fashion experiences while you provide a tour of your wardrobe. This interview is audio-recorded and some photographs are taken of your clothing. You can choose to participate in part 1 only.
SECOND PART: The second part is a digital storytelling workshop that will take place over 2.5-3 days, from 10 am to 6 pm in January 2019. It will be held in an accessible location at Ryerson University in downtown Toronto. In this workshop you will create a short film about your experiences with modest fashion. We will provide all the hardware, software and training for you to create your very own audio/video digital story, at no financial cost to you. You must participate in part 1 in order to participate in this part 2 workshop.
I am conducting this research as part of my graduate studies for partial completion of my Master's degree under the supervision of Dr. Ben Barry. Findings from this research study will be shared at conferences and in publications.
To qualify as a participant, you must identify as female, be 18 years of age or older, and have been wearing the hijab as a regular practice for a minimum of two years. We are looking for women of all ages over 18 and of all ethnicities, body types, and walks of life to apply. Only participants who meet the eligibility criteria will be contacted to participate.
This research has been reviewed by the Ryerson Research Ethics Board (File #2018-268).
Thank you for considering our request.
Sincerely,
Romana B. Mirza, Researcher, MA Candidate 2019, School of Fashion, Ryerson University, This email address is being protected from spambots. You need JavaScript enabled to view it.
Dr. Ben Barry, Research Supervisor, Chair, School of Fashion, Ryerson University, This email address is being protected from spambots. You need JavaScript enabled to view it.
Learn more about this research and Romana Mirza on her website here.