​​Call for Participants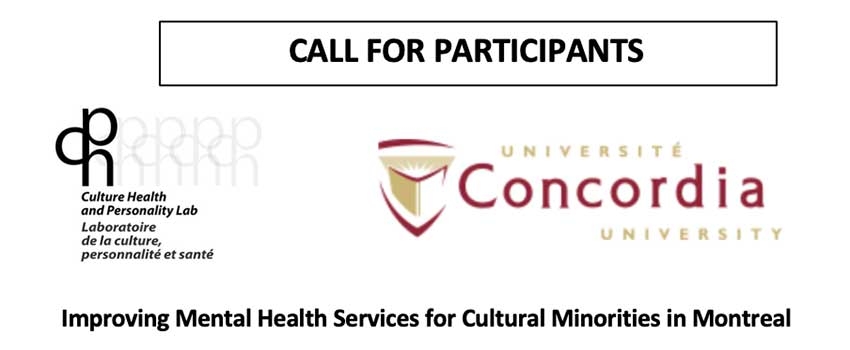 Improving Mental Health Services for Cultural Minorities in Montreal
The study: The Culture, Health, and Personality Lab at Concordia University is looking for participants to take part in a study exploring culturally-shaped understanding of mental illness.
Who can participate?
18 years old or older
Identify as either Middle-Eastern Muslim or Euro-Canadian
Be fluent in one of these languages: Arabic,English, or French.
What does the study involve? You will be asked to fill-out a questionnaire that will take 40 to 60 minutes to complete.
Compensation: Your name will be entered into a draw with 1 in 20 chance of winning $100.
Contact: For further information or to participate please contact our research coordinator, Maryam Nemati, by email: This email address is being protected from spambots. You need JavaScript enabled to view it.
The current research is being led by Dr. Andrew G. Ryder in Department of Psychology at Concordia University. The study has received ethics approval from Human Research Ethics Committee. All participant information will be kept confidential.