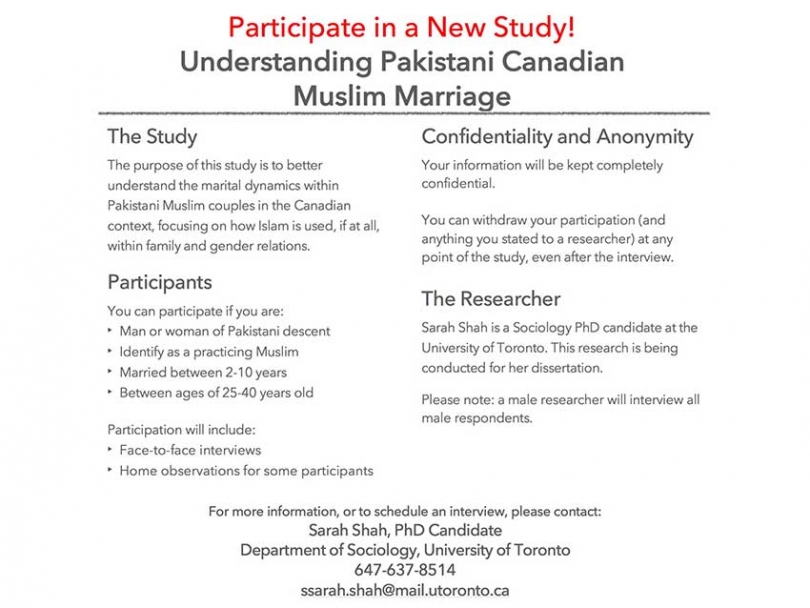 Call for Participants: Understanding Pakistani Canadian Muslim Marriage Study
24
October


2017
Understanding Pakistani Canadian Muslim Marriage Study
Written by Sarah Shah
Salaam! Are you married? Have you been married for at least 2 years? Do you or your spouse have a Pakistani background? Have you been in Canada for at least 5 years?   Are you interested in participating in a study? Let's talk!  
I am a Sociology PhD Candidate at the University of Toronto.
I am conducting research on Pakistani Canadian Muslim couples for my dissertation.
The purpose of the study is to better understand the marital dynamics of Pakistani Muslim couples in the Canadian context, focusing on how Islam is used, if at all, within family and gender relations.
You can particpate if you are:
A man or woman of Pakistani descent
Identify as a practicing Muslim
Have been married between 2 to 10 years
Are between the ages of 25 to 40 years old
I will have a private, confidential, and anonymous conversation with wives, and my husband will talk to their husbands separately.
The conversations can happen anywhere and anytime that is convenient for you.
We can come to your area, a cafe, your home, the University of Toronto, or any other location you feel most comfortable.
The conversations must be face-to-face (e.g., not over the phone), so the study is limited to respondents in or within driving distance to the Greater Toronto Area.
Email: 
This email address is being protected from spambots. You need JavaScript enabled to view it.
*Protecting Respondent Information – Confidentiality & Privacy**
Your identity and responses to the interview will remain confidential.
All identifying information will be removed from data collected, so it cannot be linked to your responses. All identifiable information and data collected during interview will not be accessible to anyone other than the researcher (Sarah Shah). The only other individuals who would have access to your responses would be the Research Ethics Board the University of Toronto, who would do so to monitor the safety and ethics of the study. No individual identities will be used in any reports or publications resulting from the study.