Bazaar Vendors Wanted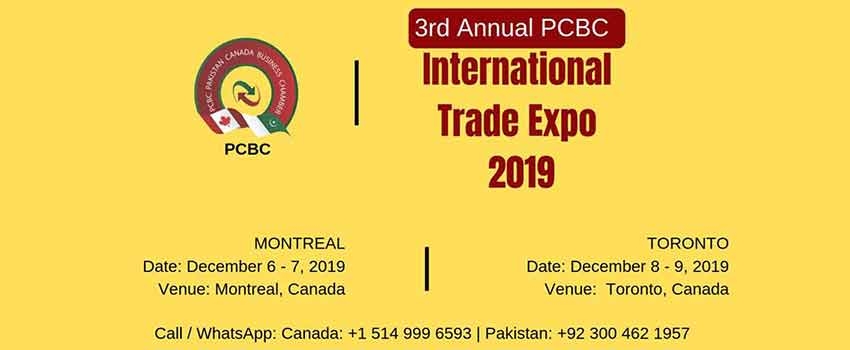 Vendors Wanted for Pakistan Canada Business Chamber International Trade Expo 2019
Location:
Montreal, Toronto
MONTREAL
Date: December 6 - 7, 2019 (Fri - Sat)
Time: 9 am - 5 pm
Venue: Bonaventure Exhibition Centre, Montreal, Canada
TORONTO
Date: December 8 - 9, 2019 (Sun - Mon)
Time: 9 am - 5 pm
Venue: International Centre, Toronto, Canada
3rd PCBC International Trade Expo 2019 is no doubt an exciting opportunity for suppliers and manufacturers to showcase their products and connect with different distributors in Canadian market. Similarly, distributors can also connect with top industry suppliers and manufacturers on spot.
Hurry up and get registered for not-to-be-missed opportunity.
SPONSOR / EXHIBITOR:
All sponsor partners and exhibitors are requested to to get their stalls booked now at:
REGISTRATION FORM:
Either if you are a sponsor, exhibitor or visitor, please fill out this form to send your inquiry.
https://bit.ly/2W66eQR
CONTACT:
Call / WhatsApp:
Canada: +1 514 999 6593 | Pakistan: +92 323 886 8000
This email address is being protected from spambots. You need JavaScript enabled to view it.
WHY PCBC EXPO?
3rd Annual Canada - Pakistan Expo 2019
Face-to-face interaction with top businessmen of relevant industry.
Exciting opportunities to boost your business in Canadian market.
Networking with business tycoons.
Opportunities to display stalls to strengthen your brand.