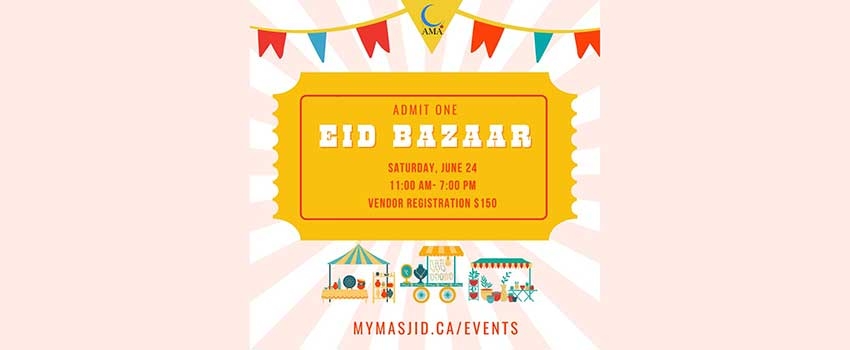 Vendors Wanted for Assunnah Muslim Association's Eid al Adha Bazaar
Eid ul-Adha is just around the corner – for all your purchase needs, please visit our Bazaar on Saturday, June 24 for a wonderful selection of clothing, Islamic merchandise, kids toys, special desserts and more!
Date: Saturday, June 24, 2023
Time: 11:00 AM - 7:00 PM
Location: AMA Community Hall (1216 Hunt Club Rd)
Vendor Booths Cost: $150 (Please purchase 1 ticket per booth)
Note: AMA is not responsible for the quality of purchases from the Eid ul-Adha Bazaar
Vendor Agreement:
AMA reserves the right to withdraw any vendor in which the products are deemed unsuitable for our community. In this case, we will ask you to kindly remove those specific items from the table OR leave and we will refund the amount you have paid within 2 weeks after the Bazaar.
If, for any reason, the vendor is missing items at the bazaar, AMA is not responsible.
AMA is not liable for any customer disputes.
Vendors must agree to set up their table(s) between 9:30 AM - 10:30 AM.
Vendors must agree to stay at the Bazaar until it is concluded at 7 PM (please have enough supplies for sale until the very end of the Bazaar)