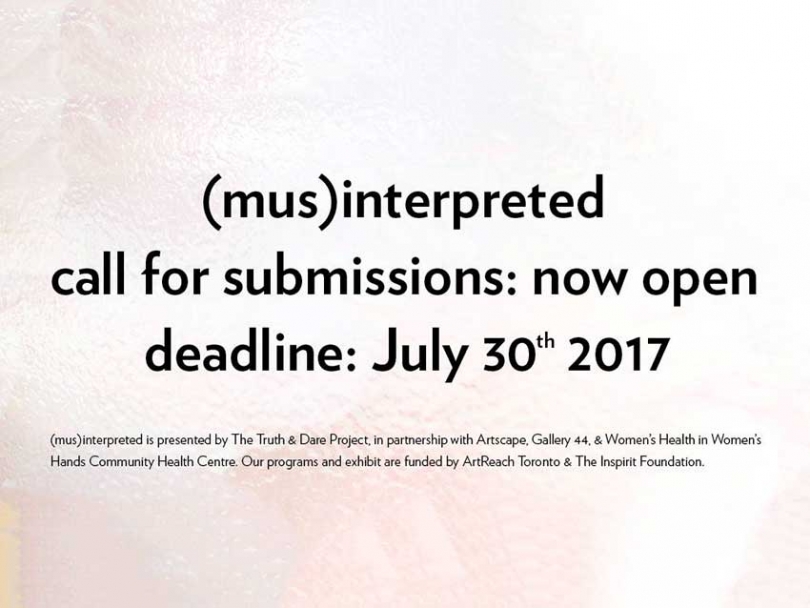 Accepting visual art by young Muslim women | Deadline: Sunday July 30th, 2017 at 11:59pm
01
July


2017
Call For Submissions: Visual Art by Muslim Women in the Greater Toronto Area Deadline July 30 2017
Written by The Truth and Dare Project
Accepting visual art by young Muslim women in the GTA | Deadline: Sunday July 30th, 2017 at 11:59pm
***
(mus)interpreted is an annual group exhibition showcasing the works of emerging and established Muslim women artists living in the Greater Toronto Area (GTA).
This fall we will showcase work that has been created during The Truth & Dare Project workshops as well as work from community members through this community callout. 

The exhibition, representing a spectrum of identities and realities, provides alternative perspectives and is an expression of hope for a self-determined, inclusive future. 
**
- Submissions are welcomed by anyone who self-identifies as a Muslim woman through the spectrum of familial, spiritual, political, cultural, ancestral connections.
- Submissions may, but do not need to, address themes of identity or religion
- Multiple pieces may be submitted for consideration.
- All submissions must follow the guidelines outlined in the application package
- Chosen work will be a part of (mus)interpreted 2017 held at Daniels Spectrum in the fall
- Artists with chosen work will be contacted by August 20th 2017
Download the Application Package here
**
(mus)interpreted is presented by The Truth & Dare Project, supported by Artscape, Gallery 44 and Women's Health in Women's Hands CHC, and funded by Artreach Toronto and The Inspirit Foundation. 

The Truth and Dare Project offers photography based art-making workshops that provide an opportunity to explore identity, strengthen self-confidence and create a sense of belonging for young Muslim women.
This article was produced exclusively for Muslim Link and should not be copied without prior permission from the site. For permission, please write to info@muslimlink.ca.