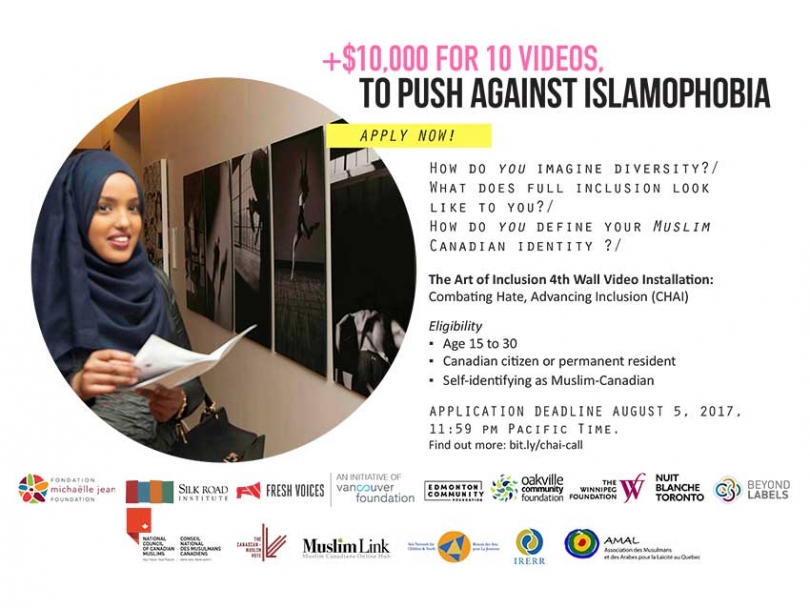 Calling On Muslim Canadian Youth to Submit A Digital Video For The Exhibit "Combating Hate, Advancing Inclusion" Deadline August 5 2017
01
June


2017
Opportunity: Calling On Muslim Canadian Youth to Submit A Digital Video For The Exhibit "Combating Hate, Advancing Inclusion" Deadline August 5 2017
Written by Michaëlle Jean Foundation
Youth from Muslims communities living across Canada, aged 15 to 30, are invited to submit proposals for a digital video production to be part of a travelling 4th Wall video art exhibition project entitled "Combating Hate, Advancing Inclusion".
Proposals can be for videos containing other art forms including dance, animation, spoken word, and visual art.
Ten submissions will be selected by a jury to be part of this ground-breaking exhibition on Muslim youth to be presented at the "Beyond Labels" 2017 Human Rights Symposium of the Canadian Human Rights Commission in September 2017, alongside other venues in Canada.
The deadline to submit is August 5, 2017 at 11:59 PM (Pacific).
Each of the 10 winning submissions will receive: A $1,000 award; Up to $250 to cover the cost of materials needed to create the artwork; Unprecedented visibility at high profile venues in Ottawa and Toronto.
The proposed artwork must articulate a vision of Canada's diverse identity and offer suggestions on ways to foster the full inclusion of Muslim youth in Canadian society.
Criteria Strength of concept related to theme of exhibition; Visual appeal; The narrative; Size: works must be in high-definition digital video format, no less than 720p (1280 × 720), but preferably 1080p (1920 × 1080).
Eligibility
This video art competition is open to youth from Muslim communities, aged 15 – 30 residing in Canada;
Individual artists and collaborative artist groups can submit proposals, but the lead artist for a collaborative group must be between the ages of 15 – 30; and
Staff of the sponsoring organizations are ineligible.
How to Enter
Complete the application form online here
If you are submitting work as a group, send from one email account only. If you use more than one email, we will disqualify your entry. The lead artist on the project must be between the ages of 15-30 years.
Deadline
Submit by August 5, 2017 at 11:59 PM (Pacific).
Please contact This email address is being protected from spambots. You need JavaScript enabled to view it. for further information.
About the project
Project sponsors include the Edmonton Community Foundation, the Winnipeg Foundation, and the Oakville Community Foundation. Project collaborative partners include the Canadian Human Rights Commission, the Silk Road Institute, and the Institute for Research and Education on Race Relations.
4th Wall: Make the Invisible Visible is a Michaëlle Jean Foundation initiative, with the collaboration of several prestigious museums and art galleries.
This article was produced exclusively for Muslim Link and should not be copied without prior permission from the site. For permission, please write to info@muslimlink.ca.