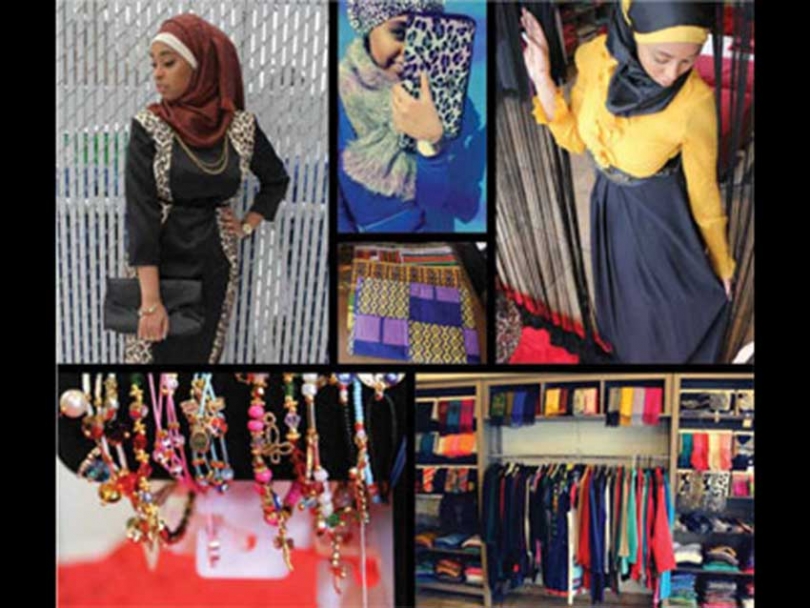 19
March


2013
One-stop shopping for modesty-minded fashionistas
Written by Chelby Daigle
Ottawa's modesty-minded fashionistas now have a new boutique to meet their needs.
Nourabelle offers ready-to-wear haute couture fashion from the Muslim world. Walking into the beautifully-decorated store on 1223 Kilborn Avenue, few would imagine that the store only opened back in December or that owner Faten Fawaz wasn't born to run such a business.
Ms. Fawaz, originally from Lebanon, is new to entrepreneurship. She studied chartered accounting but chose to stay home and take care of her children. After coming to Canada, she and her husband, like so many immigrants, realized that they would have to devise new ways to support their family.
"We came up with the idea in November. I was sitting with my friend and my husband and we were talking about business in Canada and how we should make our own business.  I like fashion, I like to wear beautiful clothes and I know there are not many places in Ottawa for women who wear hijab to find a variety of clothes. So I said why not open a store for women who wear hijab but who also love fashion?" she says.
Ms. Fawaz's fashion sense combined with the artistic creativity of the store's co-owner, fellow Lebanese émigré and interior designer, Clodia Sebraoui, makes for a unique shopping experience.
The store's name, Nourabelle, comes from the name of Ms. Fawaz's daughter, Nour, which means "light" in Arabic, andbelle which means "beautiful" in French. Ms. Fawaz feels that the name best represents what women can expect when they come to her store"" bright, colourful, and elegant clothing.
If customers are lucky to arrive at a time when Ms. Fawaz herself is working at the store, they will also discover that the name also best describes Ms. Fawaz's engaged approach to customer service. She takes great joy in helping her customers find the outfits and styles that would best suit them.
"My job is taking care of my store, and taking care of my store means taking care of my customers.  You have to respect the customers; you have to give them everything you have. Even if they don't buy something, you gave them something; you have given them a good experience, and a good impression of the store."
Nourabelle is well stocked with a variety of pieces, from shirts, skirts, pants, abayas, jilbabs, and hijabs, specially selected by Ms. Fawaz during her travels to Turkey, where she collects pieces from renowned Turkish fashion houses such as Tekbir. Nourabelle also has stylish clothing from Saudi Arabia and Dubai, including beautiful butterfly abayas. Ms. Fawaz also collects a variety of accessories, from necklaces to purses that she likes to help customers coordinate with their outfits.
"You can walk out of Nourabelle with a complete outfit, instead of having to go to so many different stores to find different pieces that go together."
Nourabelle carries clothing for special occasions, such as weddings and celebrations, but it also has a wide selection of clothing for everyday wear, such as trendy but modest cotton jogging suits with matching hijabs for the sporty Muslimah.
Ms. Fawaz welcomes customers who are not Muslim, and has found that women from different backgrounds are also interested in modest clothing that is fashionable, colourful, and creative.
Ms. Fawaz feels that it is only in Ottawa that a store like hers could really be a success as women who wear hijab here generally accepted and treated with respect.
"Hijab is normal here. You see women wearing hijab working in regular stores, going to the gym, going to university. When I was in Montreal I didn't feel people were accepting of my hijab like people in Ottawa. Here you feel comfortable, everywhere you go you have women in hijab. Here most people who are not Muslims are used to the hijab. They look at you like you are just a regular person."
But although Ms. Fawaz is happy to be fitting in, she also wants to stand out with her style. For like-minded Musliminahs, Nourabelle's clothing will be showcased at the upcoming The Art of Modesty Sisters' Only Fashion Show organized on Saturday, March 30th between 6 to 10 pm at Carleton University's Fenn Lounge in the Residence Commons. Also check out Muslim Link's Nourabelle Fashion Shoot by photographer Aisha Abdulqadir on our Facebook Page.
This article was produced exclusively for Muslim Link and should not be copied without prior permission from the site. For permission, please write to info@muslimlink.ca.