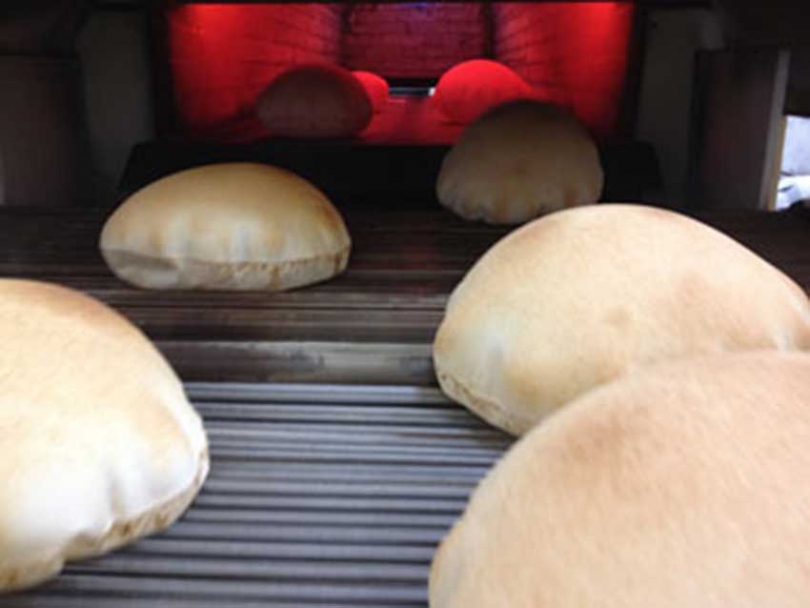 18
March


2013
Bakery brings home-made, preservative-free pita bread to Ottawa
Written by Chelby Daigle
Ahmad Siblini has just spent the last ten hours slaving over a hot stove, literally, to bring his family's traditional pita bread to the people of Ottawa. He is clearly exhausted but excited to talk about his new business, Sanabel Bakery.
A software engineer by training, Mr. Siblini opted to go back to his roots, which span three generations of bakers.  The Siblini family is well known in Lebanon for having started Beirut's famous Yasmeen Bakery. Ahmad's father, Hajj Mohamad Siblini, was among the first to use the automated pita production line in Lebanon over 30 years ago.
"Baking was part of my childhood. I grew up in Lebanon and I always went to my father's bakery. It was a second home," he says. Ahmad has been able to tap into his father's years of experience in the development of his own bakery in Ottawa.
 Although baking is definitely physically harder than sitting at a computer, Mr. Siblini feels a greater sense of accomplishment and satisfaction in seeing his customers enjoy his fresh bread each day.
He chose to name his business "sanabel", which means an ear of wheat in Arabic, because of its connection to both bread and the verse in the Quran which states: "The metaphor of those who spend their wealth in the way of Allah is that of a grain which produces seven ears; in every ear (sanabel) there are a hundred grains. Allah gives such multiplied increase to whomever He wills.Allah is All-Encompassing, All-Knowing." (Ch.2, vs.261)
Mr. Siblini says he is proud to be bringing something truly wholesome to the people of Ottawa as Sanabel Bakery's breads are free of preservatives.
 "We make our bread the way it's been made for the last 80 years in my family. It's the same recipe," he says. Now that people are becoming more conscious of the potential negative effects of preservatives in food, Mr. Siblini feels that it is important for pita bread lovers to have healthier options.
But he feels that Sanabel Bakery's bread will not only appeal to those who are health conscious but also people who just want to eat great tasting bread.
"The smell of the bread and the taste of the bread is what people talk about. We bake our bread fresh daily, seven days a week."
Mr. Siblini chose Ottawa for his business because he felt it was a good market for his bread but also because, as a fluent French speaker, he wanted to work in a bilingual city.
"There is a respect for diversity here which you don't see as much in cities in the United States."
In addition to pita bread, the bakery also prepares tanour and kaak bread, as well as assorted petit fours and cookies.
For a list of locations that carry Sanabel Bakery products, visit:  www.sanabelbakery.com. Sanabel bread is also available for sale to retailers and individuals at the bakery on 1228 Old Innes Road, Unit 303. Mr. Siblini recommends that you call 613-747-2000 before you arrive.  
This article was produced exclusively for Muslim Link and should not be copied without prior permission from the site. For permission, please write to info@muslimlink.ca.